Our Mission
Made In America is a 501(c)3 public charity working tirelessly to resurrect the manufacturing industry in the USA and be the driving force for the New Industrial Revolution here at home. We promote the importance of Patriotic Spending: Be American, Buy American and the Benefits of buying American cars
Made in America is dedicated to rebuilding the very industries that built this nation. Manufacturing is the backbone of this country, the very engine of our economy. As an industry, it is the largest single contributor to economic output.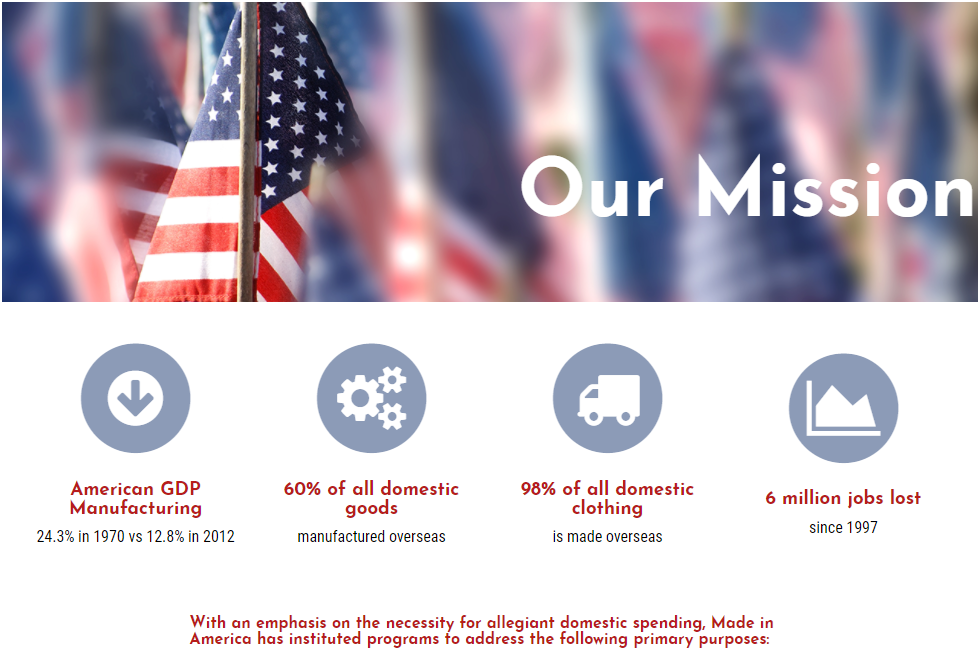 Founded in 2012 as an affiliate public charity of the K&L Baxter Family Foundation, Made in America was conceived to address the overwhelming issues facing the current economic crisis in this country. As a solution, and in an attempt to provide a viable alternative to issues facing America's economic security, Ken & Linda Baxter worked in collaborative partnership with the public and private sector to develop programs especially suited to recovering the magnitude of jobs and gross domestic product lost in the United States over the last two decades.
Made in America is devoted to the ideal of resurrecting allegiant domestic spending in the United States. Buying products that are Made in America is not just a matter of national pride. It is a matter of national survival.
The prototype program instituted to accomplish such purposes has been underway in Nevada since the onset of 2013. Aptly named, Manufacturing in Nevada, has formed or is pursuing active partnerships with the following public sector entities: Clark County School District (CCSD), Nevada Manufacturing Association, Department of Training and Rehabilitation (DETR), Regional Representative Harry Reid's Senatorial Office, and the Nevada Industrial Excellence Committee. Additional inroads are being made in the public sector to ensure Made in America's success with the Manufacturing in Nevada program.
A multitude of privately held manufacturing entities have also joined the program, pledging a commitment to the endeavor of bringing skill qualified careers back into the State's manufacturing sector as well as strengthening their product appeal through allegiant domestic spending, rebranding the face of modern manufacturing, and non-partisan legislative appeal and reform.
With an emphasis on the necessity for allegiant domestic spending, Made in America has instituted programs to address the following primary purposes:
Strengthen the Manufacturing Sector of Industry statewide and nationwide through retention and recruitment efforts
Educational reform and academic partnering to close the skill gap prevalent in the current manufacturing workforce;
Revitalize the image of modern manufacturing accurately to reflect the overall career benefits and positive socioeconomic impact consequently produced;
Support amendments to current public policy and regulation which adversely affects America's ability to compete in the global marketplace.