A NATIONAL TREASURE – OUR
Great American Wilderness
Hello, Ken Baxter back in Juneau, Alaska far from my home in sunny Las Vegas, NV and welcome to my blog!
The great state of Alaska is America's largest with 663,000 square miles– it blows away Texas' measly 269,000 square miles! It's one of the only states in America with massive, untouched areas of wilderness landscape. I was glad to learn that 95% of Alaska's 57 million square acres of natural wilderness is protected by the US Park Service to preserve this treasure for many generations to come. Great big place, the only thing missing is people!
In 2018 the state population was calculated at just under 750,000; Hawaii has twice that at 1.4 million.
The City of Juneau, Alaska, with over 3,000 square miles (192,000 acres) within its boundaries, has the largest area of any North American city. The North Slope Borough, at 88,000 square miles (5,632,000 acres), or slightly larger than Idaho, is the largest municipally governed entity in the world.
There are over 100,000 glaciers in Alaska, covering 4.5% of the state – that's 29 thousand square miles. The highlight of the trip was the helicopter excursion we took to the Mendenhall glacier, a magnificent sight about 12 miles outside of Juneau.
After a quick safety briefing by our guide, we put on the studded boots that add extra grip when walking on the surface of the glacier.  In no time we were up and away to our destination.
The pilots are highly-trained to effortlessly navigate air currents and adverse weather that can unexpectedly develop while flying through the mountain landscape. Our pilot delivered us to one of the most breathtaking sights I have ever seen. What a spectacular view I had of the blue glacial ice, deep crevasses, incredible ice falls and the jagged peaks near the Mendenhall.
Once we landed on the glacier the specialized, studded boots caused the snow and ice to crunch beneath my feet, allowing me to walk around the surface with pretty sure footing.  Our knowledgeable glacier guides were always close to answer any questions we may have had. Do you know how glaciers are formed? Basically, a glacier is a huge body of ice formed through the accumulation of snow and sleet over a period of many years. These glacial fields have been snow covered for at least the last 3,000 years and average about 100 feet of new snowfall every year.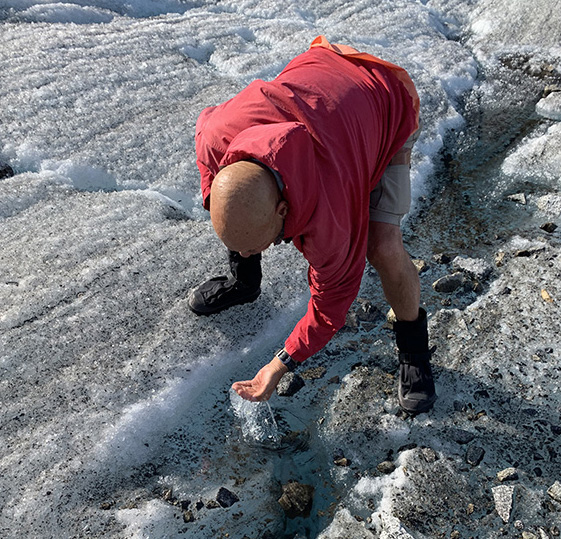 The glacier itself is 13.5 miles long and about a mile and half wide. Where we landed the ice was about 2,800 feet thick underneath our feet but the ice on the Mendenhall can range from 200ft to over a mile deep in some places. I was able to touch one of the melt-water pools, possibly the coldest water I have ever felt in my life.
Do you know why glacial ice is blue? It is so blue because the dense ice of the glacier absorbs every other color of the spectrum except blue – so blue is what you see! Sometimes it appears almost turquoise.
I came back to  Alaska to enjoy the fantastic fishing, stunning scenery and the cool, crisp temperatures in the mid 60's; I can tell you I was not disappointed at all. The water was clear, blue and the fish were cooperating. In fact, I had a nice collection of fish that filled up the deck (see pics below) and one particularly big fella who weighed in around 35 pounds.
On the ride back to the airport, I tried to soak up as much of  Alaska's beauty as I could. I know these memories that will last a life-time.
If you would like to discuss I would love to hear from you! Leave a comment below or contact me directly at [email protected]
Thank you again for visiting my blog – Ken Baxter Las Vegas